Mozafati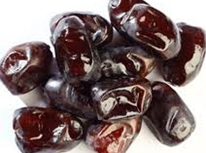 In our opinion a what undervalued date is the Mozafati.  The Mozafati of Primofin Fruit is a 100% natural date. He is also known as the "Juicy Date". The date is rare juicy, very soft on the inside and has a delicious full-sweet taste. If you look at the nutritional value of this date you will see he has nothing rivals the so much praised Medjoul.
The "JUICY ONE" among the DATES
The 100% natural Mozafati dates surprise by their juiciness and softness. The dates are packaged in their natural state, there is nothing added to it. Mozafati dates range in color from dark brown to almost black, depending on the area where they grow. The dates are not well known to the general public (yet), while they earn this though. We always say taste them is buying them. The taste, price ratio is excellent! We deliver you the Mozafatis in packs of 600 grams. They are supplied in packing units of which 12 boxes I 600 + 50 grams.
Nutritional values (per 100 grams)
The Juicy date is an enormously responsible delicacy. The date is 100% natural. It contains a flinter in vegetable fats but they are bursting with vitamins. Over 13 mg of the date are pure vitamins. Next to that, the fruit is rich in other healthy nutrients.
Calories 283 kcal. /1.160 kJ.
Total fat 0.4 g
total carbohydrate
Total Protein 1.6 g 68.0 Gr.
total Minerals 0.6 gr.
total in vitamins 13.1 mg.